Chick-fil-A is known for its delicious food and fresh options. And with Chick-fil-A rewards, you can save big on your purchase. Whether you're buying for yourself or the whole family, Chick fil A rewards or gift cards can help you get a great deal. Check back often, as Chick-fil-A deals are constantly changing. But hurry in – these coupons won't last forever!
About Chick-fil-A
One of the most popular chains in the US, Chick-fil-A has seen massive success since its opening in 1946. With nearly 2,000 restaurants worldwide and more than 20,000 employees, Chick-fil-A's loyal fanbase is booming. One way to show your support is by using a Chick-fil-A reward or gift card. They can use these cards at any Chick-fil-A location in the US, and you can use them for food, drink, and merchandise. Moreover, it is conducting Chick-fil-A Customer Experience Survey to collect customer feedback and offer CFA Sandwich Coupon Code as a reward.
How To Redeem Chick-fil-A rewards?
Visit the Chick-fil-A "Rewards" section of the Chick-Fil-A app
You can view all redemption options and your available points there. You will see a semi-transparent icon if you don't have enough points for a menu item.
Once you redeem an item, you'll have 30 days to claim it. Tap on the item you'd like to redeem, and select "Redeem points for this reward."
Redemption can be applied to mobile orders, carry-out, drive-thrus, or curbside pickups (sometimes).
The item will automatically be added to your order if you place an order via a mobile device. You'll need to have an employee scan the QR code if you choose "Scan at Restaurant."
One of Chick-fil-A's perks is freebies without requiring any purchase. It's fine to do so, but you don't have to.
Chick-fil-A One Rewards (Cashback)
At Chick-fil-A, you can redeem your points for a variety of different menu items. We ran an analysis to see how much cash value each item offers but it may varies depends upon the locations, and the results surprised us. Here's a look at what we found:
| | | | |
| --- | --- | --- | --- |
| Items | Price | Rewards Points Cost | Cash Back |
| Market Salad | $9.69 | 1800 | 5.38% |
| Grilled Chicken Sandwich | $6.49 | 1200 | 5.41% |
| 12ct Chick-fil-A Nuggets | $6.85 | 1200 | 5.71% |
| Frosted Beverages | $4.35 | 700 | 6.21% |
| Chick-fil-A Lemonade | $2.55 | 400 | 6.38% |
| Chick-fil-A Cool Wrap | $7.79 | 1200 | 6.49% |
| Side Salad | $3.99 | 600 | 6.65% |
| Milkshakes | $4.75 | 700 | 6.79% |
| Small/Medium Fruit Cup | $3.99 | 600 | 6.65% |
| 8ct Chick-fil-A Nuggets | $4.85 | 700 | 6.93% |
| Hash Brown Scramble Burrito | $4.79 | 700 | 6.84% |
| 6-pack Chocolate Chunk Cookie | $9.19 | 1200 | 7.66% |
| 8ct Grilled Nuggets | $5.69 | 600 | 7.98% |
| Kale Crunch Side | $2.35 | 300 | 7.83% |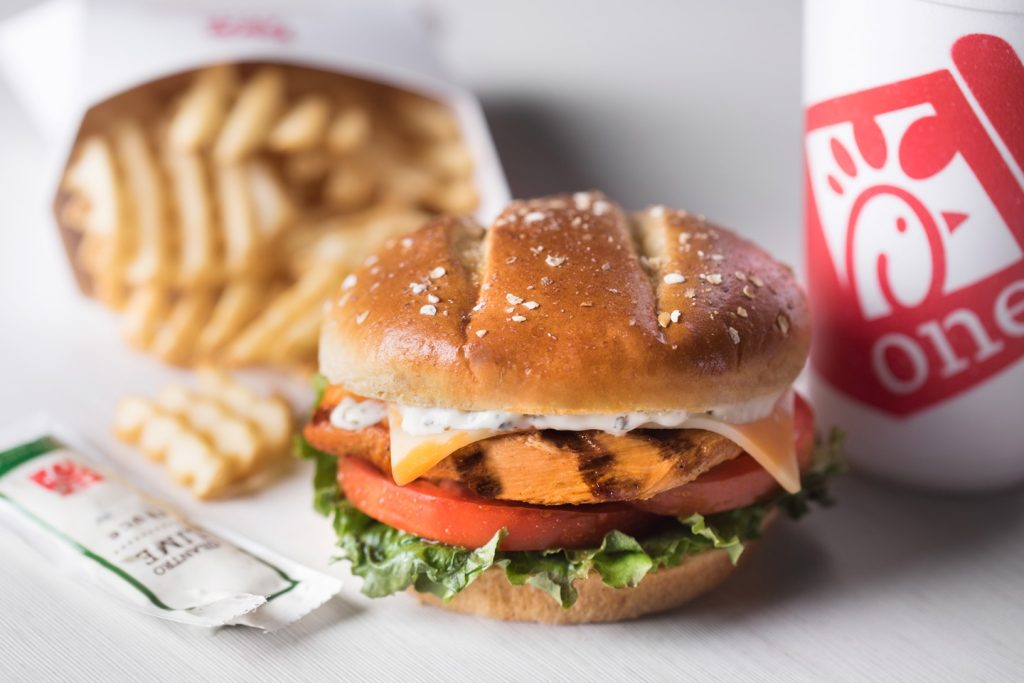 How To Purchase Chick Fil A Gift Card?
Chick-fil-A gift cards make a great present for any chicken lover in your life! They are available for purchase in denominations of $5, $10, $25, $50, and $100 at most Chick-fil-A restaurant locations. Find the nearest participating restaurant by clicking here. You can also visit our Gift Card pages to learn more about this great gift idea!
chick fil a gift cards can be purchased at many convenient locations, such as grocery stores, pharmacies and other large retailers. However, please note that most Chick-fil-A Express and licensed Chick-fil-A locations, such as music venues, baseball stadiums, airports or universities, do not sell gift cards and only a few locations redeem gift cards.
Chick-fil-A has no affiliation with any websites that sell Chick-fil-A gift cards at a discounted price. The sale of Chick-fil-A gift cards online by third party websites is prohibited and Chick-fil-A restaurants may not honor cards purchased through these non-approved online third-party sellers.
FAQ's
Can I receive points in the drive-thru?
As a Chick-fil-A One member, you'll earn points for every eligible purchase you make, including drive-thru orders. Be sure to scan your QR code when you pick up your order.
Where can I purchase a Chick-fil-A Gift Card or a Chick-fil-A eGift Card?
Chick-fil-A offers gift cards that can be bought at participating restaurant locations. The amounts available range from $5 to $100. To purchase a Chick-fil-A eGift Card, visit the website.
Does the Chick-fil-A app provide nutritional information?
Just click on any menu item and you can see all of the nutritional information! It's comprehensive, including calories, fat content, sodium, cholesterol, and more. You can expect to see this same level of detail on grocery store labels.
Conclusion
We hope you enjoyed our post about Chick-fil-A rewards and gift cards. With this knowledge, we know that you can make the most of your rewards and gift cards when eating at Chick-fil-A. So what are you waiting for? Make your way to Chick-fil-A today. If you have any other questions or concerns about Chick fil A rewards, thank you for reading, they always excite us when one of our posts can provide helpful information on a topic like this! moreover,if you want to know more information, visit Chick-Fil-A website.